S'21 #08

Our seventh event will be held at Musselman Honda Circuit on 07/17/21.
This event is worth standard points.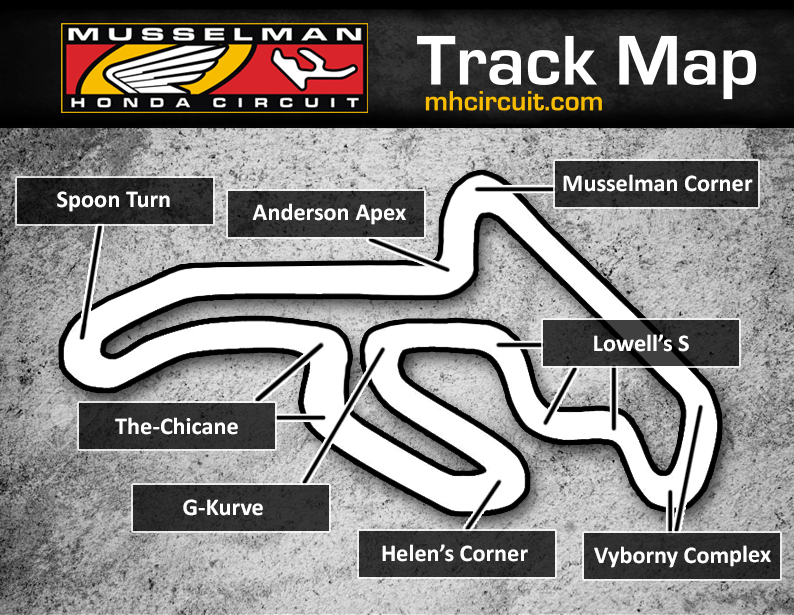 >> PRE-REGISTRATION COMING SOON <<
All registration is done onsite the day of the event. $120 (includes transponder)
1. Go to http://mhcircuit.com/ and read their supplemental COVID-19 details. Here is a cut and paste from their website as of June 18th:
We are opening the track for practice starting 5/22
We now have minimum track entry requirements and a Corona Virus Mitigation Plan you MUST read, download and sign below.
New requirements as follows:
Do not come if you are sick or show any symptoms
Face mask and cell phone are required for entry
Must read & sign the Corona Virus Mitigation Plan
2 people maximum per vehicle entry… Exception for parents with children
Driver/rider and 1 guest: no spectators allowed
Maximum participants allowed is 80
No Pets
When you leave your area (Bubble/Pit Box) you must wear a protective mask
Check Calendar for updates and operating times
2. Print and sign this waiver –> http://mhcircuit.com/wp-content/uplo…CIRCUIT-01.pdf
3. There will be a person at the gate to collect your signed COVID specific waiver. No gate fee for the driver. $10 for guests/crew to obtain a "pit pass". NOTE: There is mention of a "free" spectator area on the tracks website but honestly, that area is so restrictive it's not even worth claiming you are a free "spectator", just pay the $10 and be free to roam anywhere and hang out where the cars pit and able to see results, etc.
Schedule (SUBJECT TO CHANGE)
4:00PM – Gates Open / Registration – at the end of the main kart garages closest to the start/finish tower
5:30PM – Drivers Meeting
6:00PM (approx.) – Track Hot (or as soon as everyone is ready after the Drivers Meeting).
NOTE: No defined end time but the track management is committed to running longer than they normally do to ensure everyone gets everyone plenty of seat time.
~8-10 cars will be released at a time based on speed potential. NOTE: If adjustments need to be made to be in a more appropriate group, that can be accommodated, you just need to ask after your session with quantifiable (or compelling subjective) data.
The order that groups will go out on track will be determined during the drivers meeting. Announcements for "next group" will be made over the Tracks PA system
This is NOT a NASA AZ Sanctioned event and will be ran how Musselman Honda Circuit normally does their monthly HPDE/Time Attack, however… UMS / NASA AZ Time Attack competitors will receive points as a regularly scheduled UMS Tuning Time Attack points event
The track is well lit. Headlights and taillights are recommended but NOT required.
Tech Inspection will be done by Musselman staff.
NOTE: If you pass NASA HPDE, you will pass their inspection. Their inspection may be less stringent.